KIT GLUBRAN 2 SEAL
>
New extravascular device for occlusion of the femoral arterial access site.
The Kit is made up of Glubran 2 glue and its applicator "Glubran 2 Seal Device".
At present, "Glubran 2" glue is the occlusion system recommended after procedures such as diagnostic and interventional catheterization through femoral retrograde and antegrade access.
"Glubran 2" glue is used to occlude arterial access sites in an unique and revolutionarymethod, absolutely innovative with regard to those used up to today. The procedure is simple, quick and extremely safe for its control in releasing under scopy.
GLUBRAN 2 SEAL DEVICE applicator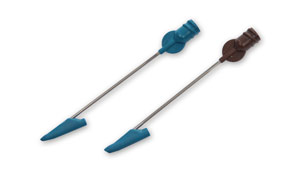 "Glubran 2 Seal Device" is the applicator specially studied to be hooked and made slipping along the outer surface of the introducer sheath , to go easily through the subcutaneous adipose tissue and to stop itself into the point where the glue is released.
The applicator is in 5-6 French and 7-8 French sizes.
Advantages
occlusion of the femoral access site in retrograde and antegrade position
release of the glue in extravascular site
no need to interrupt the anticoagulant therapies
fast and safe occlusion due to the remarkable reactivity and adhesiveness of the glue
reduction of any infections connected to the bacteriostatic activity of the glue
biocompatible
guarantees the occlusion of the femoral access site even when the application is in the femoral artery, deep or superficial, femoral bifurcation, by-pass (PTFE, Dacron, venous) and calcific vessels
opportunity to immediately repunching the artery
requires a short learning curve
earlier patient's walking activity
reduction of hospital stay costs due to the early discharge of the patient
execution of the procedure in complete safety by carefully following the application steps