Use of NBCA in Gastrointestinal Bleeding
Vittorio Pedicini MD
THEORETICAL ADVANTAGES OF NBCA
Permanent
Highly penetrable
Occlusive effect does not depend on coagulation parameters – High hemostatic effect
Interesting for massive bleeding (very fast – good for emergency procedures)
High radiopacity
Can reach distal targets (impossible to reach even with micro-catheters)
Easy to deliver
Best options with very small micro-catheters
When compared to its direct competitor, ONYX, NBCA shows several improved characteristics, as shown in the picture below: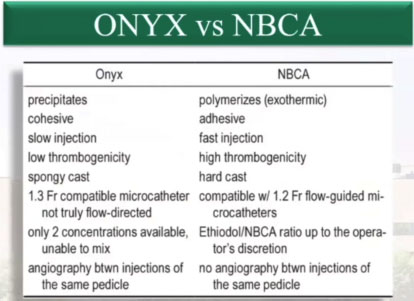 Even though it is not possible to perform an angiography between injections with NBCA, we know by now that we can flush and re-use the same micro-catheter for up to three times. Due to its peculiar anatomy, the gastrointestinal (GI) tract may present several complications. It is to be noted that the upper and lower tracts are different when it comes to possible risks. The upper tract is rich in collaterals, which allow for harder embolization, and has a lower ischemic risk but, on the other hand, the rebleeding rate is higher, due to the presence of extensive vascular arcades.
The lower tract presents terminal branches and vasa recta. It has a potential higher ischemic risk but lower rebleeding rate. Many papers have been published about the use of NBCA for GI bleeding.
In 2014, AJR (American Journal of Roentgenology) published a study performed on one hundred patients, titled "Clinical Outcome of Transcatheter Arterial Embolization With N-Butyl-2-Cyanoacrylate for Control of Acute Gastrointestinal Tract Bleeding", which concluded that TAE with NBC-A with or without other embolic agents showed high technical and clinical effectiveness. In the picture below, we can see the figures from another study from 2014, with high technical success rate and low major complication rate. The conclusions were that "Transcatheter arterial embolization is a safe and effective treatment for LGIB. NBCA could be used as a primary embolic agent for this procedure."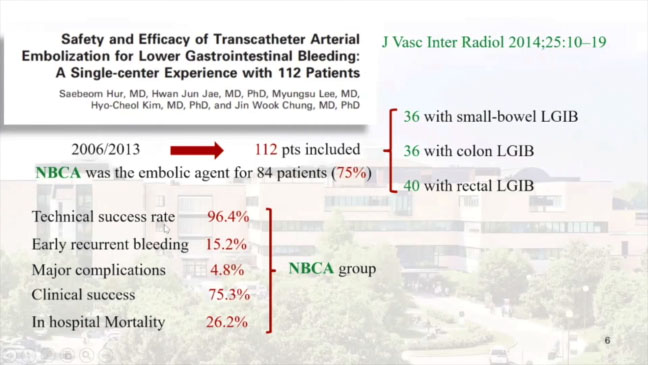 Published in 2017 by JVIR (Journal of Vascular and Interventional Radiology) with the title "Transcatheter Arterial Embolization of Gastrointestinal Bleeding with /V-Butyl Cyanoacrylate: A Systematic Review and Meta-Analysis of Safety and Efficacy", an evaluation on 15 studies, performed on a total of 440 patients and including both upper and lower GI tracts, showed high technical and clinical success with very low major complications and only 3 bowel resections.

A very interesting point emerged as follows: "Coagulopathy is an independent predictor of clinical failure, and the site of bleeding, coagulopathy, and clinical failure are independent predictors of 30-day mortality."
Conclusions: "Transcatheter arterial embolization with NBCA is safe and effective for the treatment of GI bleeding.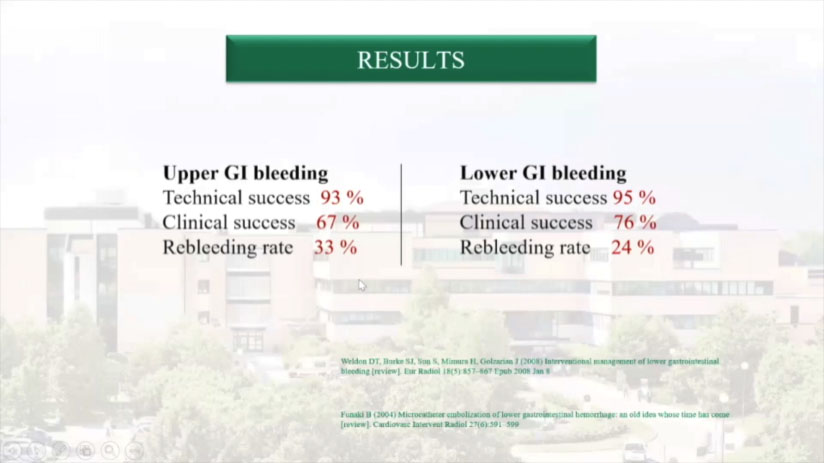 As the data show, employing glue in GI procedures is indeed very effective, but we always need to carefully plan in advance: gastroduodenal bleeding may appear to be easy to treat, but if you miscalculate your ratio and use a high-density embolizing material, the risk is that a procedure that looks successful could present later complications, such as ischemic damage and subsequent perforation.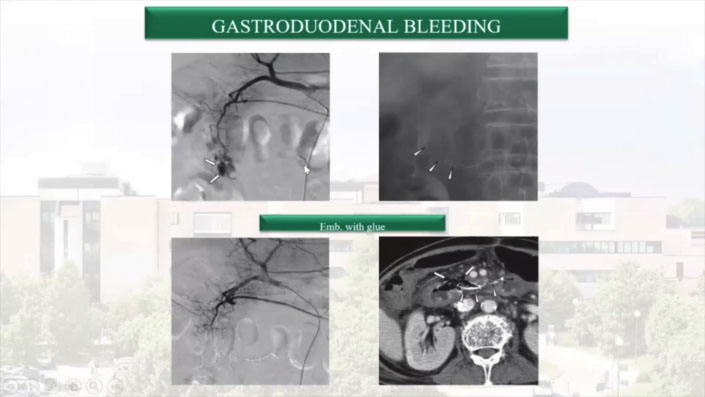 In the picture below is a successful example of distal embolization with a thin, 1.3 micro-catheter.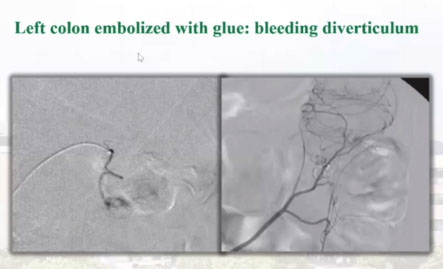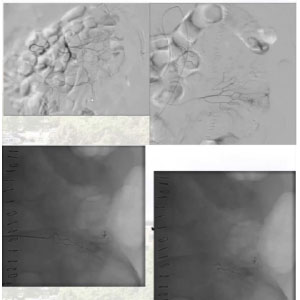 ANGIODYSPLASIAS has also been treated successfully with Glubran®2. Vasodilators can represent a useful aid tool to help locate the bleeding site and experience is always crucial when navigating the vessels, but a distal injection will most certainly lead to complete embolization of this kind of arteriovenous malformations. On the top left is an example of an angiodysplasia of the ileum that presented distal damage of small vessels. Again, we went distally and used a 1:3 ratio Glubran®2/Lipiodol mixture. The photographs at the bottom show the final "stamp".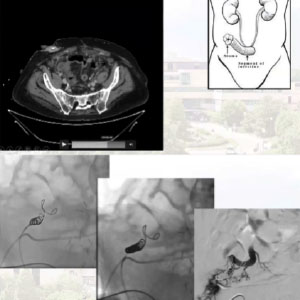 Here we have a case of VARICEAL BLEEDING in a patient with multiple pathologies: multifocal hepatocellular carcinoma (HCC) with a portal venous thrombosis, portal hypertension, and portal varices. He had a Bricker bladder due to urothelial carcinoma. We inserted the catheter in the ureters and traveled to the bowel. While the patient was bleeding, the urine in the catheter appeared clear, which suggested that the source of the bleeding might be the bowel, so we decided to approach the varices with an ultrasound-guided percutaneous procedure. We used a micropuncture set, exchanging it for a 5-French. We performed an angiogram and opted for coils first, to avoid migration of the glue to non-targeted distal vessels, then injected an extremely diluted (1:9) mixture near the puncture site, which completely stopped the flow.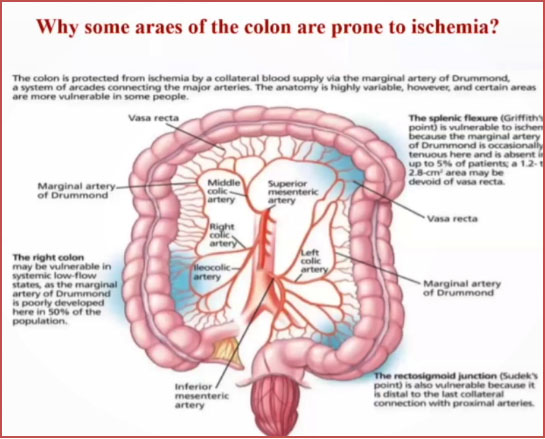 To summarize, we have shown that embolization can be successfully performed on the GI tract, as long as we keep in mind the weak points of its anatomy, like the vasa recta, the splenic flexure, the right colon and the Sudeck's point, which is a high risk area due to the lack of collateral circulation. If we pay attention, though, glue can be a very good tool in this difficult area.
Variceal bleeding is also a setting where we can obtain good results.
TAKE HOME MESSAGE
In our experience arterial embolization using NBCA in well-trained hands is effective and safe in controlling bleeding from the G1 tract and does not cause more ischemic complications than other embolic agents.
Should you require training on the matter, please be aware that our team from Humanitas regularly provides training sessions and workshops in collaboration with GEM.