How to become Glue Confident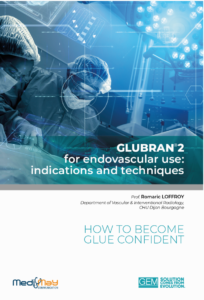 The ultimate guide to learning how to use Glubran2 as a liquid embolizing agent. Techniques, use cases, and suggestions for making the best use of Glubran2 surgery glue.
The author of the ebook is prof. Romaric Loffroy, Head of Department of Vascular & Interventional Radiology CHU Dijon Bourgogne.
"Most interventional radiologists see the use of glue as a practice that can lead to multiple complications, chiefly the risk of the catheter sticking to the vessel and generating non-target embolization.
During this training, some useful advice will be offered towards performing a safe and proper embolization, helping the radiologist to avoid such risks.
This booklet wants to be an accessory of this hands-on course on the use of the glue Glubran®2 as liquid embolizing agent. It has been created with the dual purpose of supporting the trainee during the theoretical part of the training and of releasing basic information, instructions, tips and tricks the Radiologist can consult before starting the first experiences of embolization with "glue" independently." Prof. Loffroy.